URGENT! Halftown has resumed terrorizing Gayogo̱hó:nǫ⁷ citizens, support needed!
Aug/Sept 2022 - Halftown and Cayuga Nation Police (CNP, his non-Native police force) have resumed terrorizing Gayogo̱hó:nǫ⁷ citizens who oppose him and demolishing buildings of importance to them, in a sequel to the destruction he wrought in February 2020. The situation is developing rapidly and help of all sorts is needed!
Sept 27: The Ongweoweh person who was assaulted by CNP, detained in Pennsylvania, and denied adequate medical attention, was told by doctors that two bones would have to be removed from his foot due to the progression of a staph infection. This is a direct consequence of the assault and medical negligence.
Sept 16: CNP began occupying and conducting an armed robbery of a Gayogo̱hó:nǫ⁷ home. Over the following days, they illegally detained 5 non-Gayogo̱hó:nǫ⁷ people and maced several supportors on two occasions. In the night, something was shot at a car that contained a Gayogo̱hó:nǫ⁷ elder whose family's home is being taken over; it broke the windshield, and is suspected to have been rubber bullets from CNP. The family has been forced to find housing elsewhere. CNP removed and returned some of the family's belongings, but others, including ceremonial items, remain missing.
Sept 7: Another home was demolished. This home was the birthplace of the first Gayogo̱hó:nǫ⁷ child born in their traditional territory in over 200 years.
Sept 6: An Ongweoweh person, who was assaulted and kidnapped by CNP on August 28th, held in a Pennsylvania prison, and denied adequate medical attention for more than a week, was taken to Halftown's "court" on September 6th in a state of diabetic shock and sepsis. After the "court," friends rushed him to a hospital, where he spent three days in the ICU. He had been recovering smoothly from foot surgery until, on August 28th, a CNP officer stepped on his foot while it was in a post-op "boot."
Sept 3: Three Gayogo̱hó:nǫ⁷ citizens were "arrested" by CNP, including a disabled elder, and one of the other two was tased in the process. Two of these citizens were transported to a jail in Pennsylvania and held without bail.
Aug 3: CNP bulldozed three buildings, including the barn where Ceremonies were being held until the longhouse destroyed in 2020 could be restored, and the home of an elder lovingly called Grandma by the community, after she was violently dragged out of it. Gas and electricity to the home were not turned off before the demolition, constituting safety violations that put everyone in the area at risk. CNP spent the rest of the month harassing and intimidating Gayogo̱hó:nǫ⁷ citizens.
Watch another call for help or see our social media for live updates on the situation.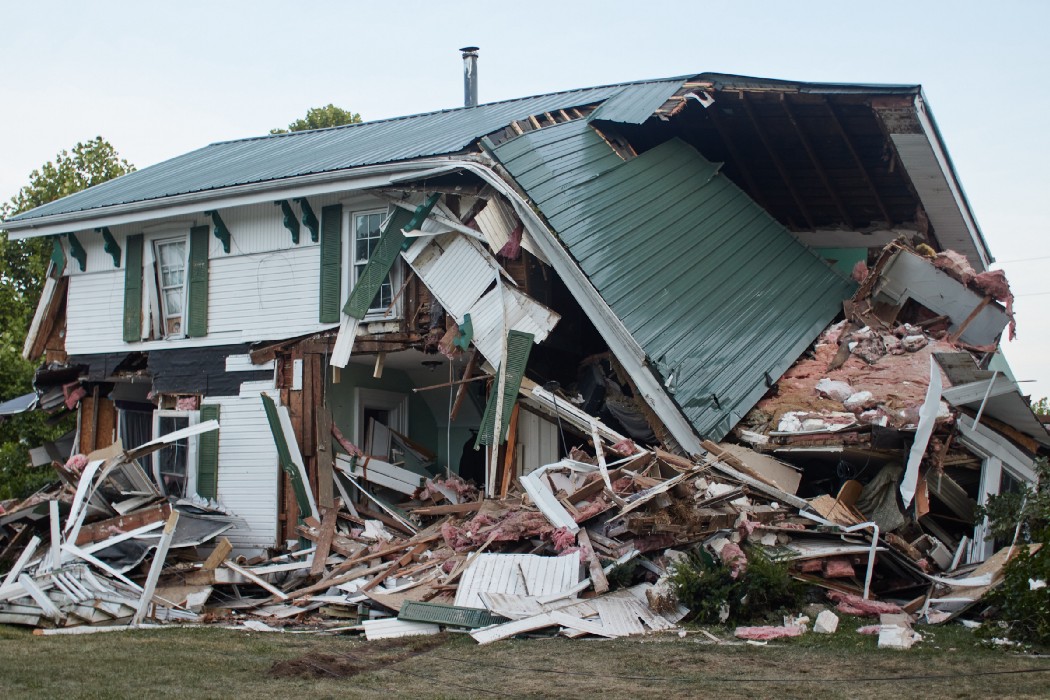 Support is urgently requested! Food and supplies, donations, and on-site presence from those who know the community and the area are all helpful. Donate here or to @SolidarityIthaca on Venmo, or email HalftownMustGo@proton.me for current needs and how to contribute. Last but not least, call your representatives and urge them to urge Biden to heed and meet with the Council of Chiefs and Clan Mothers! See our phone scripts for suggestions on who to call and what to say.
Ongoing news coverage:
Join us!
There's no better way to stay up-to-date than by subscribing to our email announcements. We look forward to hearing from you!
Action: Calling on Senators Schumer and Gillibrand
May 31, 2022
We recently met with staff in Schumer and Gillibrand's offices in DC. These meetings seemed promising, but the Senators have not yet followed up on our asks. Allies across NY state: Call on Schumer and Gillibrand's offices now!
Schumer's DC office: 202-224-6542
Gillibrand's DC office: 202-224-4451
Let's keep attention on the NY Senators' offices so they act in time to stop the Land-into-Trust application. Call today, call tomorrow, call every day until the senators take action! You can join us for a Phone Zap on Thursday (6/2) at 11am and 5:30pm EDT. We'll meet on Zoom (email us or message us through social media for the link) and take 15 minutes for questions and check-in before calling together. Whether you join the zap or call on your own, if you're not sure what to say, you can use or adapt the script below.
"Hi, I'm a constituent in [location/zip code], calling because I want to know what Senator [Schumer/Gillibrand] is doing to stop the Halftown Council's Land-into-Trust application in the name of the Cayuga Nation and to call for Biden to meet with the Cayuga Chiefs.
"Numerous municipalities within the Senator's constituency and across Cayuga homelands have passed resolutions and written letters about this issue. I understand that your staff has received copies. Can you tell me what actions the senator is planning to take and when, given the urgent timeline on this issue?"
DC March for Gayogo̱hó:nǫ⁷ Self-Determination
May 18, 2022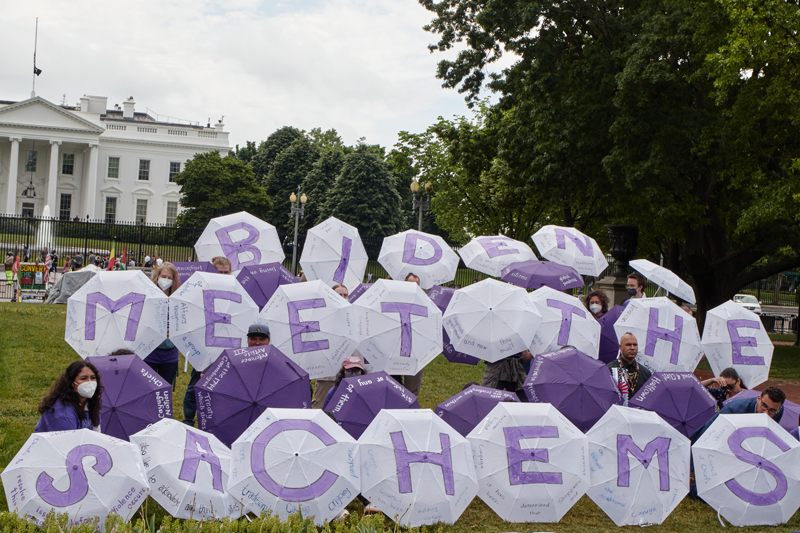 Sunday May 15 and Monday May 16, Gayogo̱hó:nǫ⁷ citizens and allies headed down from all across Haudenosaunee lands to Washington, DC to deliver a message to the DOI and the Biden administration: it's time to stop recognizing Halftown, and meet with the Council of Chiefs instead. We started at the DOI with an umbrella display in the colors of the Two Row Wampum that read, in big letters, "Biden Meet The Sachems." In smaller letters around their rims, the umbrellas had the full text of the May 2021 letter from the Council of Chiefs. Then we marched to the White House, where some of us met with representatives from Senators Schumer's and Gillibrand's offices. We're hopeful we made a real impression, and we'll be following up with them soon.
Many thanks to all those who contributed in any way to make this possible!
Finger Lakes Daily News has covered the march. Photo credit: Aaron Fernando.
Action: Postcard Flurry
May 9, 2022
On May 7, many of us gathered in Ithaca's Stewart Park to write postcards urging the DOI to deny Halftown's land-into-trust application and push for the President to meet with the Council of Chiefs. It's not too late to add one more! You can write your own message or start with the script below.
Asst. Sec. Bryan Newland
Department of the Interior
1849 C Street, N.W.
Washington, DC, 20240
Dear Asst. Sec. Newland,
I am a US resident/citizen writing out of concern about the way we as the US are violating Gayogo̱hó:nǫ⁷ self-determination, violating the United Nations Declaration on the Rights of Indigenous Peoples, and enabling human rights abuses against my Gayogo̱hó:nǫ⁷ neighbors through your continuing legitimization of Clint Halftown as a representative of the Cayuga Nation. I ask that you prompt the President to meet with the Council of Chiefs ASAP (since they've expressed complaint as per the 1794 Treaty of Canandaigua). I want our nation-to-nation relationship to respect Haudenosaunee governance and heed the removal of Halftown. In the meantime, please deny the pending land-into-trust application.
Thank you,
[Your name], [location/ZIP code] (Gayogo̱hó:nǫ⁷ land)
Ithaca City Letter
May 1, 2022
Our efforts in Ithaca have paid off! The Common Council unanimously signed a letter in support of the traditional Gayogo̱hó:nǫ⁷ and sent it to the Secretary of the Interior and other U.S. officials. Ithaca joins the Town of Dryden, Town of Enfield, Seneca County, and Cornell University Student Assembly in sending official letters or passing resolutions on this issue.
Read the letters:
Action: Rebuking Halftown's 60% Claim
April 20, 2022
Clint Halftown is fond of claiming that 60% of Cayuga Nation citizens support him. You can learn about why this claim is misleading and help dispel it by sharing that information with the DOI, BIA, and journalistic publications. Here's some contact information:
Bryan Newland
Department of the Interior
1849 C Street, N.W.
Washington, DC, 20240
Kimberly Bouchard
Eastern Regional Office
Bureau of Indian Affairs
545 Marriott Drive Suite 700
Nashville, TN, 37214
Finger Lakes Times
315-789-3333
mcutillo@fltimes.com (Michael Cutillo, Publisher / Executive Editor)
Auburn Pub (aka The Citizen)
315-253-5311
jeremy.boyer@lee.net (Jeremy Boyer, Executive Editor)
Finger Lakes Daily News
607-243-7158
news@flradiogroup.com (attn: Greg Cotterill)
You can also ask journalistic publications to acknowledge the Haudenosaunee Confederacy's official website (which lists the Nation's current Clan Mothers and Chiefs) any time their reporting discusses Halftown's supposed "leadership," and to stop using phrases like "anti-Halftown faction," as the Council of Chiefs is not a "faction," nor are the Clan Mothers, nor are the Nation citizens who acknowledge their role and authority within the Great Law of Peace.
Any time you see or hear Halftown's 60% narrative, comment and share the full context! Point people to the Haudenosaunee Confederacy's website or right here to our own to get informed and review relevant documents for themselves.
#TwoRowTuesday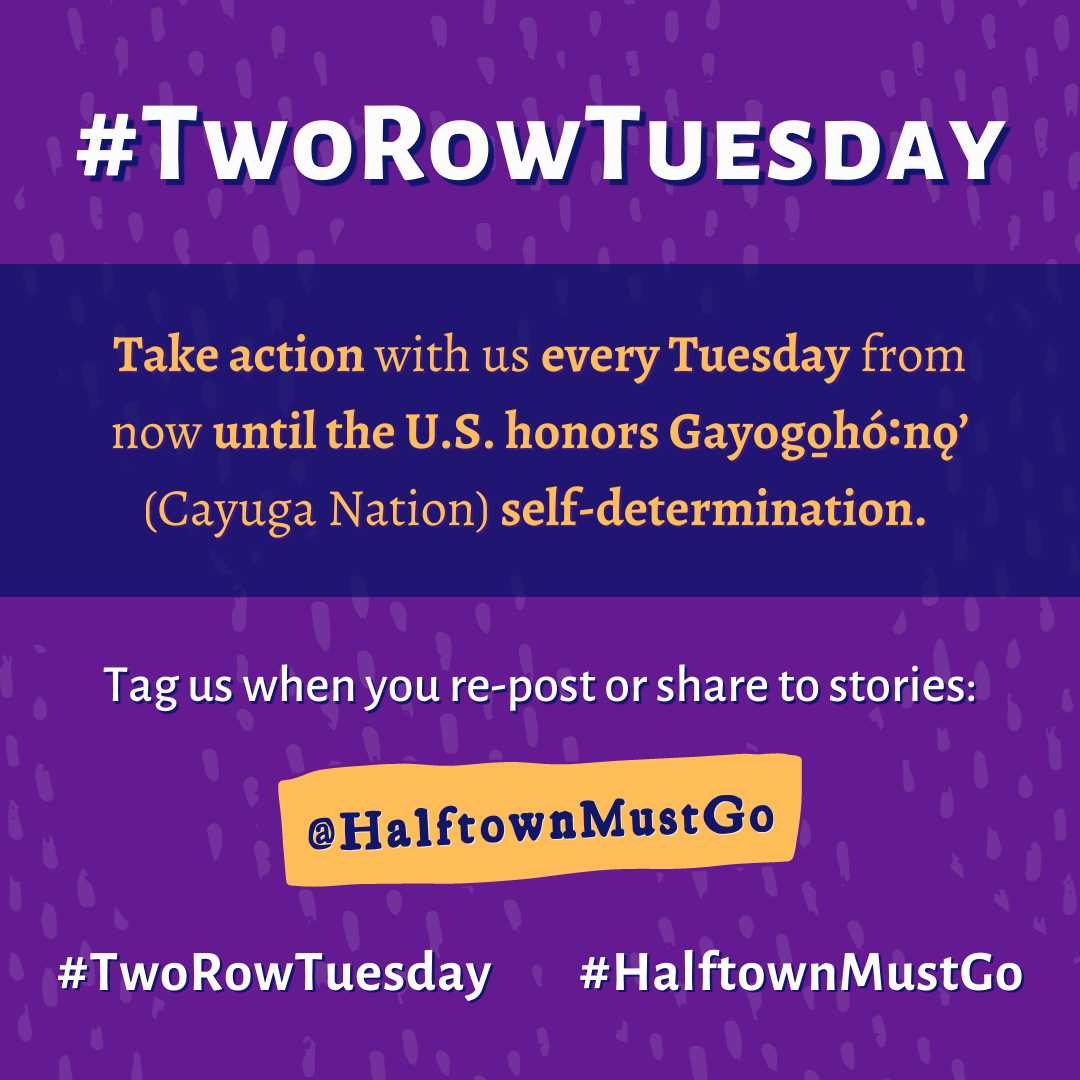 Every week on Tuesday, our Instagram page posts a quick action that friends and allies can take to help spread the word and further the effort to end US recognition of Halftown.
Action: BIA Petition
One way to join us in support of the traditional Gayogo̱hó:nǫ⁷ leadership is to sign the petition to rescind BIA recognition of Halftown and recognize the Gayogo̱hó:nǫ⁷ Council of Chiefs instead.
#HonorTheTwoRow
#IndigenousSovereignty
#HalftownMustGo